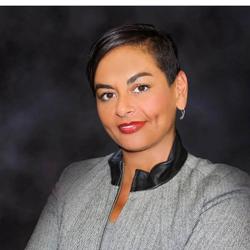 Nikki McComb has worked relentlessly in the north Minneapolis and surrounding communities for nearly 17 years. Nikki began her journey at one of the first African American charter schools in the Twin Cities. She spent 6 years serving under different capacities with the schools multi-faceted umbrella. These positions included taking
on the role of an art teacher, coach, life coach, field mentor, behavior management specialist, and guardian ad litem to name a few. Nikki then spent 6 years within The Minneapolis Urban League serving youth and families across the board problem solving and breaking barriers that prohibited sustainable living.

In 2008, while working at The Urban League and with the help of her teen daughter and two foster children, Nikki developed an inner city youth program called Hood Nerds Youth Inc. The organization gained national attention and provided youth of all walks of life options. Other than the streets, youth now had choices such as choreographed dance, artistic expression and musical options. In collaboration with the North Community YMCA, The organization held Stop the Violence lock in benefits after the tragic death of Anthony Titus and other young males whose lives were taken by gun violence. These events kept up to 400 youth safe, and off the street with positive activities and workshops for a 14 hour period. Many of the original members have gone on to graduate college with honors and one has been appointed the lead choreographer and performer in The Ordway's upcoming Chorus Line production.

Nikki went on to a tenure at Intermediate District 287 as a behavior Specialist. After two years with 287, Nikki realized she needed to be back in the heart of the community and sought positions where she could embrace youth and families as a whole. Nikki is currently the Community Relations and Resource Coordinator for Oak Park Center and Camden Services of Pillsbury United Communities. Through her work at Oak Park Center Nikki has been able to provide clothing, monetary resources, and basic needs to more than 235 women and children, helping them get on a path to living sustainable lives. Nikki is working to address the behavior standards of The Minneapolis Public School System and the issue of Solutions not Suspensions in collaboration with Minnesota Equity Partnership and The Black Male Achievement Initiative. Her work at PUC, Oak Park Center has enabled her to cultivate and foster relationships to bring resources primarily to the north side of Minneapolis to fully support parents, youth, and families for years to come.

As an emerging leader, McComb began coursework in criminology, maintaining a 95% average. One of her goals is to become a community spokesperson focusing on the generational gaps experienced by capable guardians involved in young people's lives. McComb is particularly interested in how missing elements tend to produce higher levels of crime, and ways in which we as a community can better serve both together and separately.