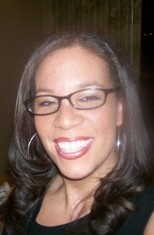 Jessica Rogers has lived in the Twin Cities most of her formative years. She graduated from Edina High School in 1990 and continued her education at the University of MN Twin Cities, Brown Institute and Metro State University.
Her professional career began at American Express Financial Advisors working in the mailroom and due to her personal drive left as a mainframe computer programmer. Always wanting to do more Jessica held several offices and executive positions with different professional and diversity networks at Amex. She was extensively involved and instrumental in the growth of the Black Employee Network (BEN).
In 2000 Jessica left American Express to pursue her passion for working with youth in the community. She entered the non profit sector to work for Youth Trust, now Achieve Minneapolis. Jessica held several positions within the organization and is most known for her position as Director of Youth Recruitment and Training for the STEP-UP Summer Jobs Program where she recruited, trained and placed over 500 youth in summer jobs.
Driven to always want to do more for youth in our community and have an impact on long term change, Jessica left Achieve Minneapolis to start her own independent consulting company working with non profits and community initiatives/events. Some of her clients were: The Fitzgerald Family, MN Vikings Antoinne Winfield, The City of Minneapolis, The Youth Coordinating Board, and several others.
In 2008 Jessica decided to get back into the workforce full time an took a position as Program Manager for the Connections Program at Summit Academy OIC. Shortly after taking the position Summit decided they were no longer going to focus on youth programs. Louis J King, CEO of Summit, gave Jessica the opportunity of a life time to run her own non profit. In January of 2010 Jessica developed and implemented the infrastructure to move the Connections program to its own non profit organization.
As of July 1, 2010 Jessica became the Executive Director of CTI. The mission of CTI is to provide unique programming and advocacy for youth in foster care, ages 15-21, to support and foster a successful transition to living independently when they age out of care. Professionally, this is Jessica's biggest accomplishment!
Jessica truly loves her work and is blessed to have found her divine calling in life. Outside of work she enjoys spending time in her home in South Minneapolis with her son Peyton Sekai Rogers and enjoying all that the Twin Cities has to offer!