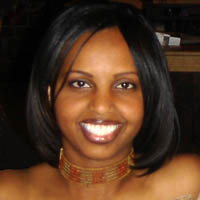 Suzie Gebre Hewitt is a Business Development Executive with the Minnesota Timberwolves & Lynx. Her passion, talents, and energy are focused on managing relationships with corporate executives, creating and implementing corporate partnership strategies and developing new business initiatives. Suzie holds a Bachelor of Science in Business Marketing Education from the University of Minnesota. She is the president of the Miss Eritrea Organization, co-founder of the University of Minnesota Black Alumni Association, and she recently joined the Twin Cities National Black MBA Association.
Prior to joining the Timberwolves & Lynx in April 2009, Suzie served nearly three years as an Account Manager with the Washington Wizards. There, she was instrumental in the boost in season ticket sales and game attendance which resulted in the organization rising amongst the top sales leaders in the league. She has received Sales Employee of the Month and Most Valuable Player awards from both the Wizards and Timberwolves/Lynx organizations.
Suzie is a St. Paul native by way of Eritrea. She enjoys spending time with family and friends, volunteering within the Eritrean community, and the youth of the Twin Cities.
For more information about the Minnesota Timberwolves go to www.Timberwolves.com or contact Suzie directly at This email address is being protected from spambots. You need JavaScript enabled to view it. or 612.673.1297.