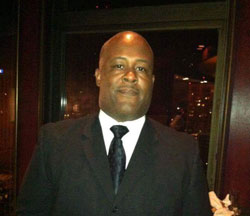 Saint Paul LYFER (Central High '89) and Do-It-All,
Erick Goodlow aka DJ G-Rock.
Erick's Credits include:
~BA in Management & Communications from Hamline University,
~Joint MA in Public Admin/Urban & Regional Studies from Minnesota State University Mankato (formally Mankato State).
~Established his first business Rock Hard Productions (now known as RHP Entertainment) in 1990.
~A member of the FIRST TEN Page Educational Scholars.
~Founding Partner of 4RM+ULA, LLP architectural and design firm, celebrating 20 years at Medtronic (January 2016)
~St. Paul central Varsity Boys Golf Coach
~Fairway Foundation President
~Served on the City of St Paul's Planning Commission and Park Board for 10 plus years..