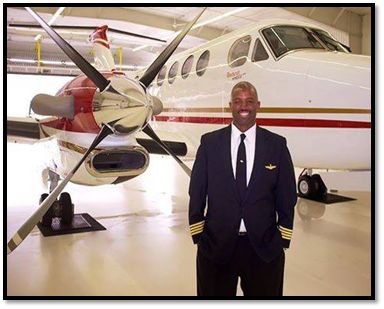 Floyd Balentine has been passionate about aviation since the age of five years old. Born in Chicago, Illinois, he had the privilege to travel many cities with his mother. At that time, he discovered his dream was to become an Airline Pilot. Two weeks after graduating high school, Floyd started taking classes at Saint Cloud State University. During his years at Saint Cloud State, Floyd had the opportunity to get involved in the Aero Club, Minority Student Programs, Advanced Preparatory Program, and Treasurer of the Counsel of African American Students. During the summer months in Saint Cloud, Floyd was a counselor for incoming freshman and mentored students for a Math, Science and Computer Camp. He spent his last two years at Saint Cloud State working as a Resident Hall Advisor, where he encouraged and motivated other college students to be the best that they could be.

In February 1998, Floyd graduated from Saint Cloud State University with a Bachelor of Science in Aviation- Pro Flight. Upon receiving his degree, he took a position as a Customer Service Agent for Mesaba Airlines, where he gained experience on the airline side of aviation. That same year he was hired at the Saint Cloud Airport as a Certified Flight Instructor. Floyd served as a First Officer for Mesaba Airlines (now known as Endeavor Air) on the RJ-85 for six years. He became a Captain on the SF-340 in May 2006 until February 2008. In February 2008 he transitioned to the CRJ-200 as a Captain. Floyd serves on the Pilot Recruiting Team at Endeavor Air where he has recruited and hired several qualified Pilots. In August 2013, Floyd and two close friends started their own Twin Cities Aviation Career Education Academy.

After years of hard work and being a dedicated Professional Pilot, Floyd was offered a Flight Officer position at United Airlines and will start class in February 2016! Currently Floyd serves as President on the Saint Cloud State University Alumni Board of Directors where he passionately helps to carry out the vision and mission. He enjoys giving back to youth what was given to him. He realizes hard work, self-determination and faith pays off in the end. Floyd currently resides in Oakdale, Minnesota with his beautiful wife Dee and their two handsome sons.