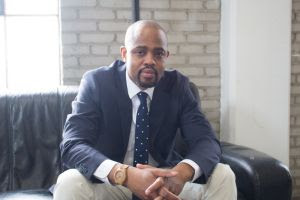 Houston White Jr. is the owner of H. White Men's Room in North Minneapolis, and the creator of the Black Excellence Movement and the HWMR lifestyle brand.
Houston's entrepreneurial career started at the age of 12 when he received his first pair of clippers. He attended Moler Barber College and has been a professional barber for over 20 years. After completing barber school, Houston began his career at the Chisler barbershop and was one of the co-founders of the MassAppeal Barbershop. Always the innovator, in 2004, Houston laid the foundation for the successful "H. White Custom Homes", remodeling over 25 homes and building 20 new homes in Minnesota.
In 2008, Houston opened H. White Men's Room and created his own line of HWMR grooming products that are paraben free and made with all-natural essential oils. The product line has been expanded to include the HWMR lifestyle brand, whose mantra is Excellence, more specifically, Black Excellence.
With mass media shedding a negative light on black men, Houston felt compelled to show a true representation of black men in our community. From there, the Black Excellence movement was born. The idea is to spark a renaissance uniting the artist and the entrepreneurs and take control of the economics, politics, and the media within our own community.