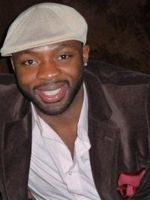 Johnny "Ucheena" Opara, a man driven to succeed, a risk taker who's not afraid to take the next step towards his dreams. The eldest of three children who was raised single handedly by his mother who instilled in him the belief that, "You will always be the Head, never the Tail!"
Mr. Opara was born in Nigeria and came to America with his mother at the tender age of three months. His family settled in the south in Baton Rouge, LA and later moved to Nashville, TN. At the age of eight, his family relocated to St. Paul, MN where it has been his home ever since. With his unyielding devotion to God and family as a source of motivation, Mr. Opara made the decisions necessary to accomplish far-reaching goals, and be an example for his younger siblings.
Mr. Opara attended Augsburg College while maintaining a full-time job, and received a Bachelors of Arts Degree in Business Administration with a concentration in Management. Hard work did not end there for Mr. Opara; he was determined to do more, and become more. Taking on Corporate America head first was Mr. Opara next success story; he was soon at the center of vital projects for Fortune 100 companies, leaving a trail of passion, innovation, and achievements! Mr. Opara has been recognized nationally by senior leaders within the business community for his integrity and ability to hit the ground running!
In 2007 at the age of twenty-six, Mr. Opara launched Opara & Associates, LLC, a First Class Executive Search firm, and an innovator of unique staffing solutions focused on diversity recruitment. As a small business owner he was able to work with other small businesses, and Fortune 500 companies in an unhealthy economy by helping them establish new methods in diversity retention, and recruitment.
In 2010, Mr. Opara will be re-launching Opara & Associates under a new name with a new vision, focus, and unique strategic direction. Mr. Opara's new company will be releasing products and services into industries in which he has always had a desire: Fashion, Fragrance, and Entertainment. In the summer of 2010, Mr. Opara will be launching his first fragrance, "JO". His Perfume line will be available for Men and Women. Diversity will remain at the core of the organization while Mr. Opara works toward making the company a leader within the respective business community. This is only the beginning of the newest phase in Mr. Opara's limitless drive to impact world of business.
Mr. Opara currently serves as President at Opara & Associates, and has been a member of the National Black MBA Association since 2008. Mr. Opara is a member of Fellowship Missionary Baptist Church in North Minneapolis. He enjoys reading, cooking, going to the movies, and working out at the gym. Mr. Opara now resides in the Eden Prairie, MN.
"The future belongs to those who prepare for it today!" – Malcolm X