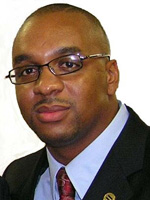 Scott Gray was selected to serve as the Minneapolis Urban League's new President/CEO following a 10-month national search process. He assumed the position on June 1, 2009.
As President/CEO, Mr. Gray has responsibility for management of the agency's $5.5 million budget. He leads a staff compliment of 82 employees, and a clustering of 13 programs operated out of 5 sites around the city, 4 of which are owned by the Urban League.
Gray comes to the Minneapolis Urban League from Madison, WI, where he served as President & CEO of the Urban League of Greater Madison (ULGM). Under Gray's leadership, ULGM completed a 4 million dollar capital campaign and will expand into a new 15,000 square foot facility that will allow the Urban League to offer more economic and workforce development programs onsite. Gray also served as the Associate Regional Director for Habitat for Humanity International where he oversaw the production of 200 homes annually in a seven state region.
Scott Gray is one of the National Urban League Movement's emerging young leaders who is focused on closing the social and economic gaps for people of color. He has received numerous awards for his community-based efforts including the prestigious outstanding 40 leaders under 40 by the Milwaukee Business Journal.
Gray holds a bachelor's degree from the University of Southern Mississippi and a Masters of Science in Social Responsibility & Sustainability from Goddard College.
He is married and a father of 2 sons.