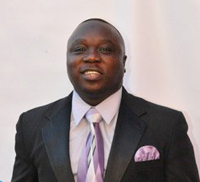 Terrence S Roberts Sr: The eldest of four children and the son of two hard working Liberian parents, who came to the United States to live the American Dream, Terrence is the epitome of where hard work & perseverance can take you.

Growing up in South Minneapolis, Terrence was a star athlete in football and track & field at Washburn High School and received a scholarship to attend North Dakota State College of Science, where he graduated from in just two years. Terrence didn't just stop there; he then transferred to Grambling State University, a historical black college and obtained his Bachelor's Degree in Psychology.
Upon graduating from college, Terrence worked in the community of North Minneapolis for several years, notably The Minneapolis Urban League, where he supervised the day to day operations of a juvenile treatment facility with at-risk teens on probation. Terrence has always had a passion to work & volunteer in his own community, to make a difference in the lives of young people, their social issues & hurdles that they face.
In 2003, Terrence started his own entertainment company called "NexLevel Entertainment" which is a concert promotions & special event company. Terrence built a brand with NexLevel Entertainment and has promoted & brought some of the best R&B artists to the Twin Cities, such as Kenny "Babyface" Edmonds, Anthony Hamilton, Boyz II Men, Musiq Soulchild, Beyonce Knowles, Raheem DeVaughn, KEM, Keith Sweat, Lenny Williams and so many others; and for his outstanding concerts, Terrence received the top promoter's award in 2008 at the Twin Cities Promoter's Ball.
Currently Terrence is a managing partner for the Miss Black Minnesota USA Pageant which will be held December 4th.